Community Education
As a primary prevention service, the Community Education program utilizes professional facilitators and mental health professionals to teach, support and empower individuals and families in both a classroom and small group setting. Topics include coping and communication skills, co-parenting, anger management, parenting skills, and divorce care for parents, young adults and children. Some classes require pre-registration and/or a $10 nonrefundable registration fee. Funding provided by the Healthy Start Program and by a PACT United Grant from United Way of Acadiana.
The Education Calendar is planned on a quarterly basis to provide a schedule of classes.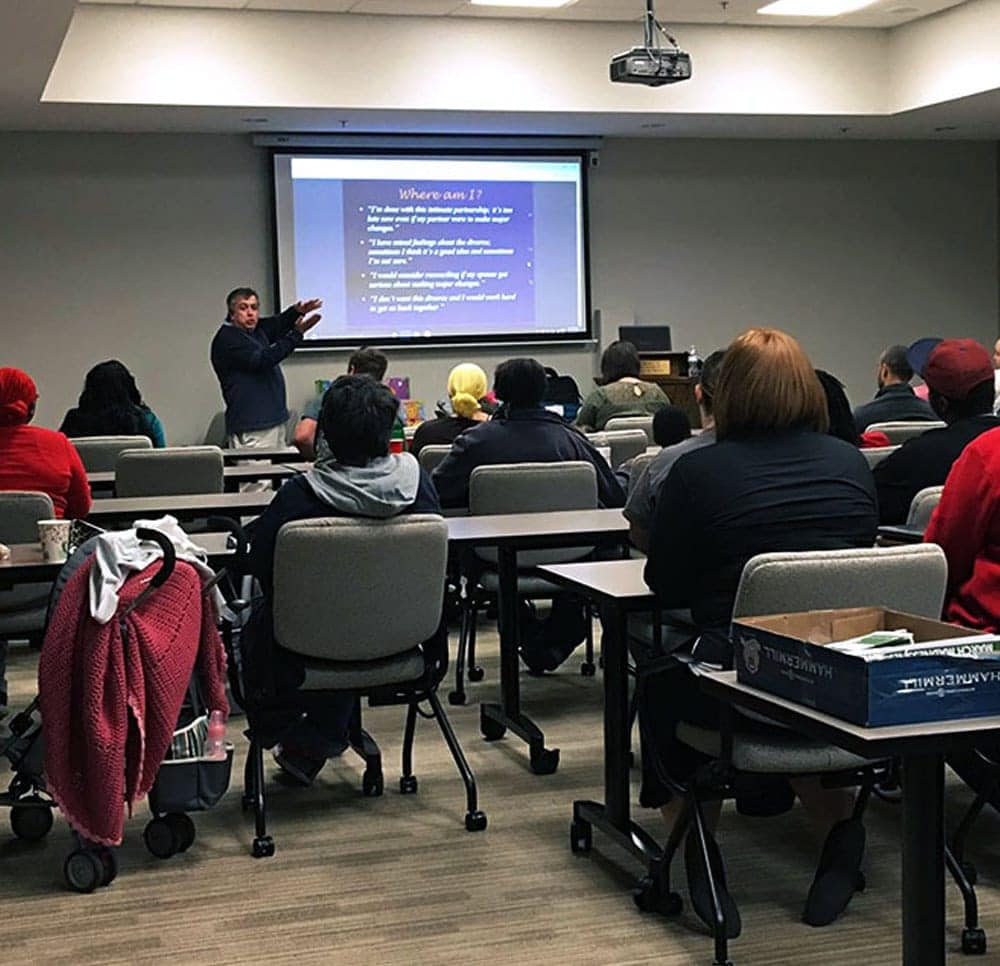 Counseling
The counseling program is comprised of licensed counselors and/or counselors working towards licensure, who provide assistance and guidance in resolving personal, social, or psychological problems and difficulties. Counselors provide a variety of assistance to individuals, families, step-families, single parents, couples, senior citizens, teens and children ages three and older. Topics can include: relationships, parenting challenges, LGBTQIA, coping with divorce, recovering from a crisis or disaster, coping with grief or loss, anxiety, depression, addictions, and stress and anger management. Counselors utilize a variety of models to meet your needs including, Gotman, Play Therapy, Parent Child Interaction Therapy, and Dialectical Behavioral Therapy. Counselors also provide onsite mental health services to the aging population for Long Term Care Facilities, Skilled Nursing Facilities, Rehabilitation Facilities, and Assisted Living Facilities. Pet assisted therapy provided by Pet Partners upon request and as available.
Sessions are based on a sliding fee scale with a $40 minimum session fee. Proof of income required for sliding fee sessions. Dates and times vary. Some insurances accepted. Employee Assistance Programs available. Grant funding available to cover the cost of counseling sessions that meet certain eligibility requirements. Funding provided by the Louisiana Children's Trust Fund, Louisiana Disaster Recovery Alliance and Office of Juvenile Justice.
If you or someone you know is interested in counseling, you should start by filling out intake paperwork available here. You can then call the office at (337) 981-2180 to schedule your appointment or complete the information below.
Family Conflict Care
This program is comprised of classes and group sessions specific for different age groups that help children and adults successfully navigate family conflict, parental conflict, parental separation, and/or parental divorce. Programming includes classes for adults and children, and small group sessions for young adults and high school students. Class and session fees vary. Please call the office for specific pricing information. Funding provided by the Family Law Section of the Lafayette Bar Association and Better Options Initiative.
Healthy Start
Healthy Start is a free program for pregnant women and both men and women caregivers with children up to 18 months of age who live in Acadia, Evangeline, Iberia, Lafayette, St. Landry, St. Martin and Vermilion parishes. The program focuses on supporting and assisting families with the challenges of raising small children.
Healthy Start is a way to ensure that your child gets the healthy start on life that he or she deserves by providing individualized assistance and information specific to your needs. This includes home visitation, case management, health education, depression screening, lactation consultation for breastfeeding women, support services, and fun, family-friendly events. Parenting skills are taught with an evidence-based curriculum and mental health services either in-home or in-office are provided as needed. We know that becoming a parent brings many new questions and decisions, so Healthy Start was developed with a desire to give you the support you need, when you need it, so that you have the best chances for a healthy birth outcome and maintaining physical and mental health. It can provide information to help you better understand pregnancy, prepare for labor and delivery, and meet the challenges of parenting a newborn and toddler.
Healthy Start is a program supported in part by Project No. H49MC27810 from the US Department of Health and Human Services, Health Resources and Services Administration (HRSA), Maternal and Child Health Bureau (Title V, Social Security Act).
Child Passenger Safety
Certified child passenger safety technicians meet with caregivers to provide education and guidance on the correct usage and installation of child safety seats. Technicians can also provide guidance on choosing an appropriate car seat based on child's age, height, weight and developmental level. A Child Passenger Safety and Awareness class is available and can be taught either at our office location or onsite at your facility. The buttons below provide additional information on best practices and a product listing guide. Stay connected! Search @BuckleUpLouisiana on Facebook, like and follow to stay up to date. All services are free of charge thanks to funding from the Louisiana Passenger Safety Task Force.
For more information or to schedule a Child Passenger Safety Awareness Class, please email Jerri Byrd Hodges.
Project H.O.P.E.
Project H.O.P.E. is a program available through a partnership with the Lafayette Parish Sheriff's Office that is designed to strengthen the relationship between the incarcerated parent and their child to promote a functional relationship upon the inmate's release. These programs have been shown to reduce recidivism. Family Tree clinicians make weekly visits to the Lafayette Parish Correctional Center and work with inmates who are also allowed a contact visit with their children. Participation in the program is voluntary and is offered to both mothers and fathers. Click on the links below for additional information, including the Caregiver Guide and Kids Time Calendar. Click HERE for additional agency classes, their descriptions and the spring calendar.
For more information about Project H.O.P.E. please contact Whitney Storey by email.
H.O.P.E. Expansion
This support program is offered to young women (25 years old or younger) upon their release from the Lafayette Parish Correctional Center and is intended to help them with successful reentry into the community. Program participants are paired with a mentor for a year following release and co-create a plan to meet goals including, education, mental health, substance abuse recovery, parenting, relationships, financial well-being, housing and job skills. Parenting classes are included for mothers and childcare is provided during classes. The HOPE is that women will increase life and parenting skills, form secure attachments with their children, and will be less likely to re-offend. All services provided free of charge thanks to funding from the Office of Juvenile Justice and Delinquency Prevention.
Click HERE for additional agency classes, their descriptions and the education calendar.
For more information about H.O.P.E. Expansion, please contact Jessica Foreman by email.
SUICIDE PREVENTION
Jacob Crouch Suicide Prevention Services consist of suicide awareness and prevention educational programs that can be taught to anyone.
Jacob Crouch Suicide Prevention Services began in November 2006, taking educational programming into schools in the Acadiana area. This program provides students with the tools necessary to help themselves or others who may be showing signs of potential at-risk behavior. In 2010, we expanded our programs to include suicide prevention education for teachers, counselors and school administrators. Now thanks to generous funding from Acadiana Area Human Services District, our programming can be taught to anyone in the Region 4 area! We also operate a survivor of suicide support group which is open to any adult who is grieving a loss to suicide.
TIKES
Tulane Infant and Early Childhood Mental Health Consultation Support and Services (TIKES) is under the supervision of Tulane University. The program serves to increase the quality of child care and early learning initiatives for all children across the state and provide child care staff and parents with tools to understand and command higher quality child care for children.
Centers participating in TIKES are eligible to receive mental health consultations. The Family Tree employs full-time licensed mental health professionals, trained in infant and early childhood issues (0-5 years old), who work closely with teachers on-site and serve as a resource for child care providers and parents as they foster and enhance children's early development through education, training, identification and intervention.
Customized Training
Do you need a specific training for your organization? Are you looking to expand your knowledge on a particular subject? We offer specialized trainings available to the community at an affordable cost and sometimes even FREE! Trainings last from 1 hour to 4 hours and can be taught either at our location or onsite at your location. Topics include: Active Listening, Nurturing Parenting, Child Passenger Safety, Understanding Feelings, Defense Mechanisms, Holistic Wellness, Positive Discipline, the Positive Parenting Program, Child Passenger Safety, QPR and many more! Click on the button below for a detailed list of trainings and don't forget to call the office to schedule one tailored just for you!